KEY BENEFITS OF WINDOW FILM
Rejecting solar heat improves comfort and keeps you cool.
Carbon-negative solutions proven to save money on energy use.
Protects from 99% of the sun's harmful UV rays
Blocking solar glare and bright lights offers visual comfort.
Glass coating and tinting for boats and yachts
When it comes to marine window tinting, there's no room for error. Let the professionals at Smart Auto's Tint handle your job. We're experts at delivering the highest quality window tinting for boats and yachts–a necessity here in UAE.
People are more aware then ever of the damaging effects the sun's rays can have on your skin. Tinting the windows of your watercraft will protect you and your family from these dangerous UV rays. It also comes with a host of benefits for your boat:
Glare reduction. Tint can reduce glare from the sun and water by up to 80%. This makes operating your boat safer in very sunny conditions.
Fade reduction. Blocking up to 99.9% of UV rays, tint reduces fading and wear-and-tear on interior fabrics like vinyl and leather. It also cuts down on interior heat.
Comfort. Tint repels the sun's powerful heat during the summer and acts as an insulator during the winter, keeping passengers comfortable.
Privacy. Tint increases privacy for your family and possessions. We also offer one-way film that ensures the ultimate level of privacy.
Safety. Tinting film protects your boat and the belongings inside it from the eyes of would-be intruders. It prevents crimes of opportunity by hiding valuables from view.
Aesthetics. Our tints come in a variety of colors and styles to ensure the perfect fit for your boat or yacht's aesthetic.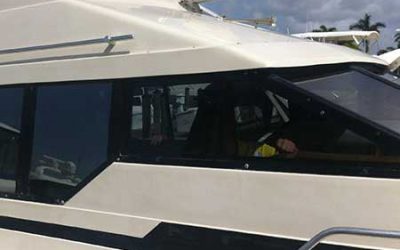 UAE Authorised Distributer & Applicator